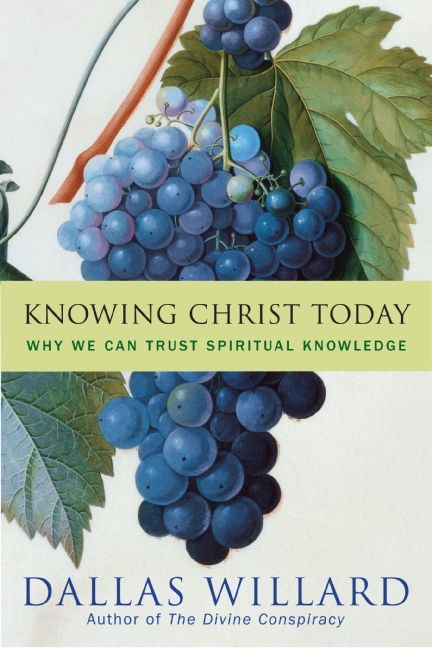 Dallas Willard's last book Knowing Christ Today is not what I expected, but it offers a good introduction to the way in which knowledge of Christ is far more than subjective feelings and gut beliefs. In many ways the book is an apologetics primer.
In chapter 1, Willard distinguishes between knowledge, belief, commitment, and profession. Is this distinction important for "knowing Christ today?" In many ways, the entire book stresses that it is vitally important. He says "we have knowledge of something when we are representing it (thinking about it, speaking of it, treating it) as it actually is…Knowledge involves truth or accuracy…[it] is what we require in service people, professionals, and leaders."
In contrast to knowledge, belief "has no necessary tie to truth…We can believe what is false…Belief is a matter of tendencies to act…belief involves the will in a way that knowledge does not."
"Commitment, made so much of today in religion and in life, need not involve belief, much less knowledge. You can commit yourself to something you don't even believe…Sometimes we have to act when we 'don't know what to do' or even when we have no belief concerning what would be best."
Regarding profession, Willard states "sometimes people profess to believe things they are not even committed to…Some people seem to profess belief in God 'just in case' there is a God. But they neither are committed to nor believe in the idea that God exists."
He goes on to show that knowledge matters most, because
knowledge, but not mere belief or commitment, confers on its possessor an authority or right–even a responsibility–to act, to direct an action, to establish and supervise policy, and to teach…Knowledge also confers upon belief and action a stability and communicability that other sources of action do not. This is because knowledge involves truth….knowledge is the basis of belief, and, when it is, it gives the belief a very different bearing upon life. Knowledge is a basis for belief, the very best basis, but belief is not a basis for knowledge, or even a constituent of it. Thus we come by the idea of mere 'head knowledge'–it is knowledge without belief, and perhaps it is mere profession.
The remainder of chapter 1 goes on to show that religion is based in a knowledge tradition. All religions purport some kind of knowledge or truth claims about reality that govern and shape their core beliefs about reality; the existence or non-existence of God, necessity of compassion, an immaterial aspect of the human soul (or no soul as in Buddhism), etc.
Of the many things that struck me as important, was the last chapter where Willard shows how the pastor plays a key role in advancing this knowledge tradition. He writes:
Pastors now are mistakenly seen, and perhaps even see themselves, as teaching what Christians are supposed to believe (perhaps what we had better believe), not what is known and what can be known through fair inquiry. And upon that supposition their job is taken to be to get hearers to believe it–or at least to commit to it, or minimally to profess it. Thus knowledge along with belief, commitment, and profession founded on knowledge are bypassed. We are left with "converts" whose "faith" does not govern their lives and whose "Christianity" may be only social conformity with a tinge of fear. Pastors then must exhaust themselves trying to get these people do [sic] things they "ought" to do, but have no serious vision or motivation for. Religion is then experienced by everyone involved as a drag on life. "Getting people to do things for the church" becomes a pastor's or leader's de facto job description. Boredom, burnout, and dropout are at hand….By contrast, presenting knowledge as knowledge, spokespeople for Christ do not try to manipulate the hearers' feelings or actions in any way…They know that passion comes from reality and simply do their best to help willing hearers understand and come to know the reality and goodness of life in the kingdom of God with Jesus. Any result beyond this they leave to the influence of the Word of God speaking in the heart and to the work of the Holy Spirit in and around the people involved.
How does your pastor rate? Does he (or she) rely upon rhetorical devices that seek to manipulate beyond the text? Do you hear repeatedly what you should believe or what is "right" to believe, rather than reasons for your beliefs that are grounded in the Word of God? Does your pastor faithfully "proclaim the mind of God in the power of the Spirit" (quoting F. F. Bruce)? Do your church leaders ground your beliefs, commitments, and professions in knowledge that can withstand scrutiny or are you more often persuaded by passion, feelings, guilt, or what others believe?
This book is important if only to show that leaders have a huge responsibility to uphold the knowledge tradition of our faith, since a properly focused faith can only be grounded in knowledge which, as Willard insists, is based upon what actually is.
Incidentally, for an understanding of the relationship between faith and reason, see my Faith and Reason: Friends or Foes?.